Duke's Beer Design Competition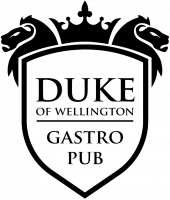 DESIGN DUKE'S BEER TAP! The Duke Needs Your Help
The Duke needed your help! It was time to get creative!!
We asked some of our talented Troops to come up with a design and name for our permanent new Duke Beer for our collaboration with Whistling Sisters.
The badge needed to reflect both the name of the beer and the Duke of Wellington brand and to be used on beer taps and other promotional material in the future. 
and the winner is! . . . . . . .
"Napoleon's Downfall"
Our clever and creative Troops rallied to our call and submitted their stunning creations!
On 29 March 2021 our judge's set about the difficult task of picking the winner of our competition at The Whistling Sisters on Taranaki Street.
With wills of fire and some creative debating taking place, the triumphant artist was selected and placed into the top-secret field notes to await the announcement on April 7th 2021.
With bated breath, our artists and substitutes waited to congratulate our incredibly clever winner and computer wizard – Jess!
Creator of "Napoleon's Downfall"
Beating out the other clever and talented Troops the Duke's Beer now named "Napoleon's Downfall" was the perfect mix of simple creativity, wrapped up in some battle of waterloo nostalgia, mixing together to create the perfect visual feast to show off the Whistling Sisters APA 😃