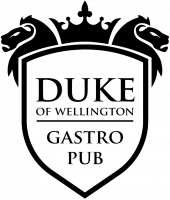 Enjoy delicious food with a fresh twist and a whole lot more banter at your next function!
The Duke of Wellington is ready for you and your allies to host your next function or event with some great flavours created by our Chef General and his Lieutenants. 
We have loaded the arsenal with a few group booking packages with plenty of hearty menu options to choose from, so come celebrate with the whole company or a select few. 
Take stock of our battle plans below for your next party, function, or event and get in touch with our team today. Dates and times will be limited so best to hit the officers quickly and make sure your Troop have the best dates locked in early!
Drinks and Platters
We hold a space within the pub for your group
Not seated but will have bar leaners and stools
Pre-order required in advance
Minimum of 30 guests required
Contact us for the menu
Pre Fixe Menu
Great for Foodie fans and Social Troops
Let our General and the Lieutenants wow your taste buds
2 course from $39 / 3 courses from $49 per person
Pre-order required in advance
Enquire today to find out more
Venue Takeover
Ideal for larger platoons
Take the whole venue
Tailor a menu to suit your needs
6 hour time slots (lunch / dinner)
Minimum spend
Monday/Tuesday $4,000
Wednesday not available (Duke's Quiz Night)
Thursday $6,000
Friday $8,000
Saturday/Sunday $4,000
Follow us on Facebook for more delicious food and tasty bevvies updates – click here
Get ahead of the crowd and enquire about your key dates below